UT International is a UT hosted application for
prospective and current international and exchange students
to communicate with the office, get information about important dates, and view action items such as check-list to do items
without the inconvenience of slow communication
via email, or having to physically go to the office to get direct communication, which is nearly impossible for prospective students unless they were to visit campus.
The application features a one-time sign up using your UT ID. The student could then choose a language they would prefer the application to be in, and be welcomed to the app. With UT International, the student can learn about important dates such as International Orientation, international student
events
happening on campus, view important action items through their
checklist
, and even create
appointments
with advisors and communicate with the office through the app. Additionally, UT International provides a
photo-document scanner
for students to upload important documents such as passports, medical records, etcetera, that would be linked with their UT ID.
The International and Exchange Student Experience
We want to understand an international student's experience

transitioning

between their

home country and UT Austin

and how they use the

International Office

to facilitate this process.
Our first action item was to interview at least 10 international and exchange students around campus in order to understand how

they

interact with UT, the international office, and other sources of information in order to make their exchange/international experience as smooth as possible. We interviewed 6 exchange students and 4 international students. Our group attempted to interview employees with the International Office, but we were often met with no response or difficulty retrieving the answers we were seeking.


After our 10 in-depth interviews with various foreign UT students, two emails sent to the international office, and one visit to the office, we began developing observations, themes, and key insights that were prevalent throughout every interview and experience.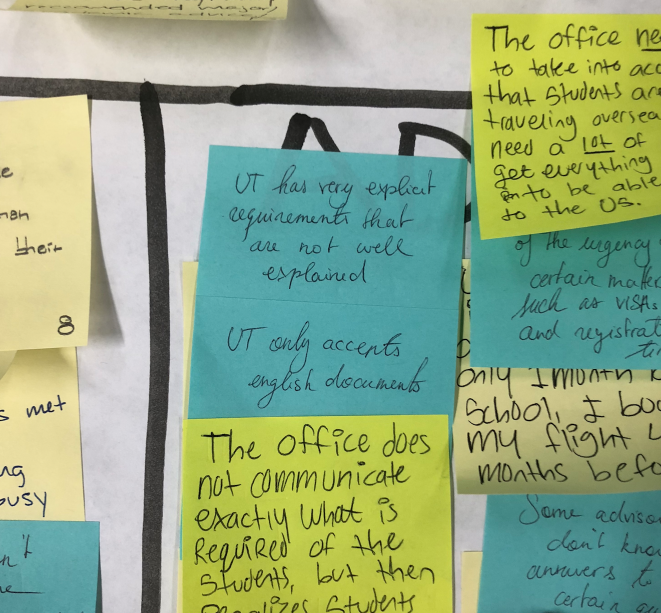 The office needs to take into account that
students are traveling from overseas
and require a lot of time to get all of their requirements met.
The office should be most available remotely to incoming students who are still overseas
, but the easiest way to currently talk to them is to physically go to the office.
The office
does not communicate exactly what is required
of the students, but then penalizes them for submitting something incorrectly.
International students come to Austin not only for the
education
but for its
culture, nightlife, and music.


The office needs to
facilitate social/community based events
and activities to allow students to immerse themselves into the Austin life.
Some of the biggest issues from these insights that we noticed was the International Office is
extremely slow
when
communicating
with students. One student missed the International Orientation before the fall semester began, because she booked her flight months ahead of time and the office only communicated the dates that students should be on campus one month before classes began.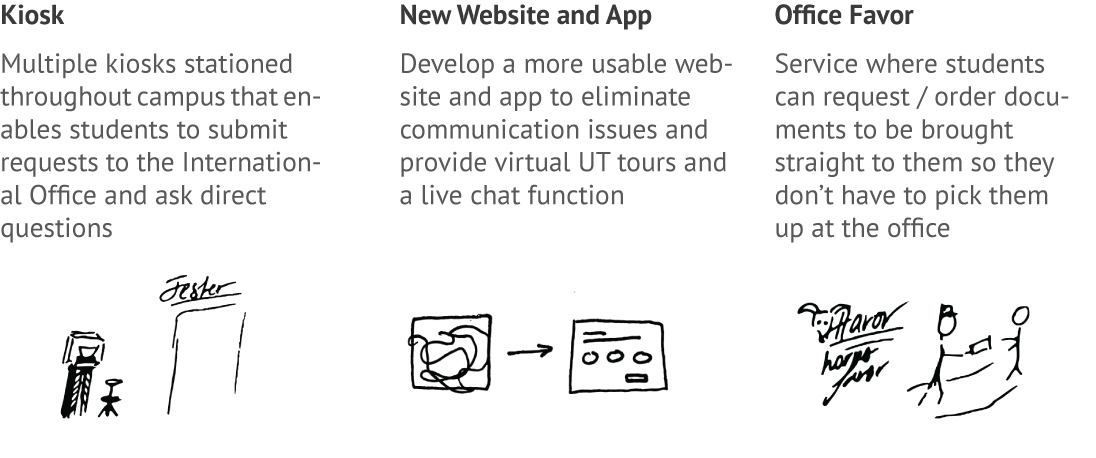 Our intent is to create a personalized and efficient experience for prospective and current students at UT Austin so they can avoid sifting through excess of information, and can easily access immediate help and answers for their questions. Additionally, students would be updated on events happening in Austin, and events specific to international/exchange students.
UT INTERNATIONAL: User Flow and Interface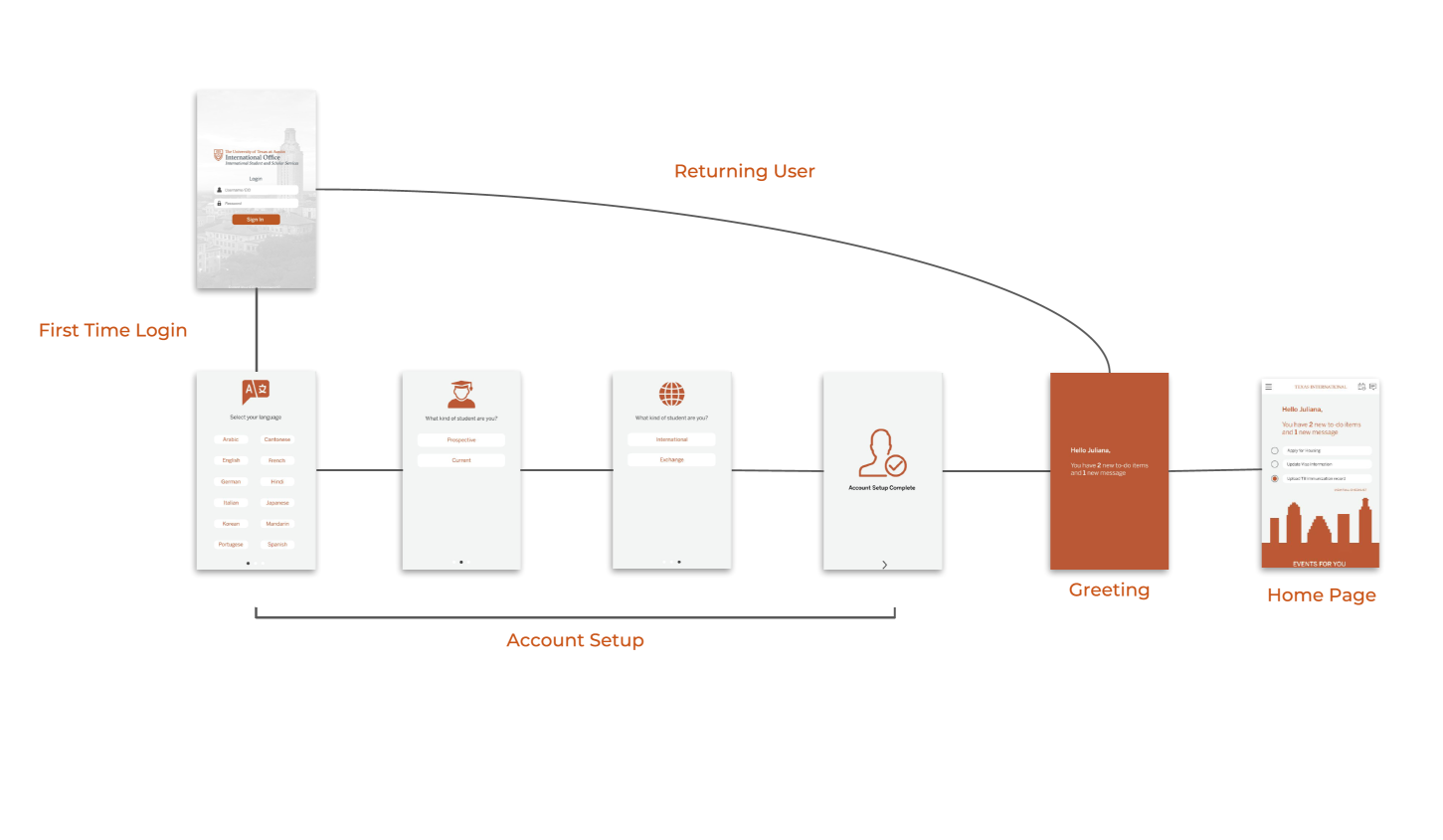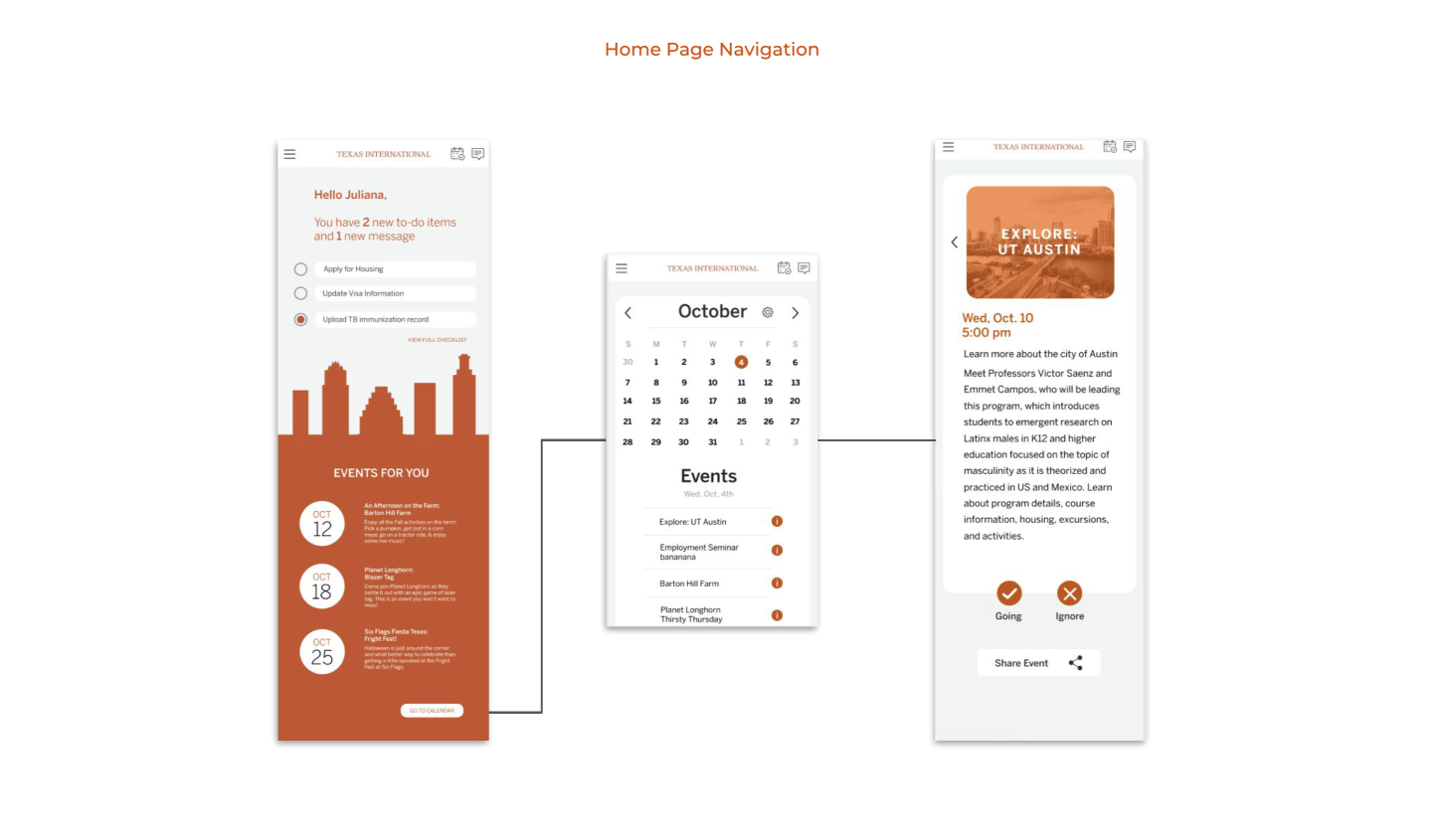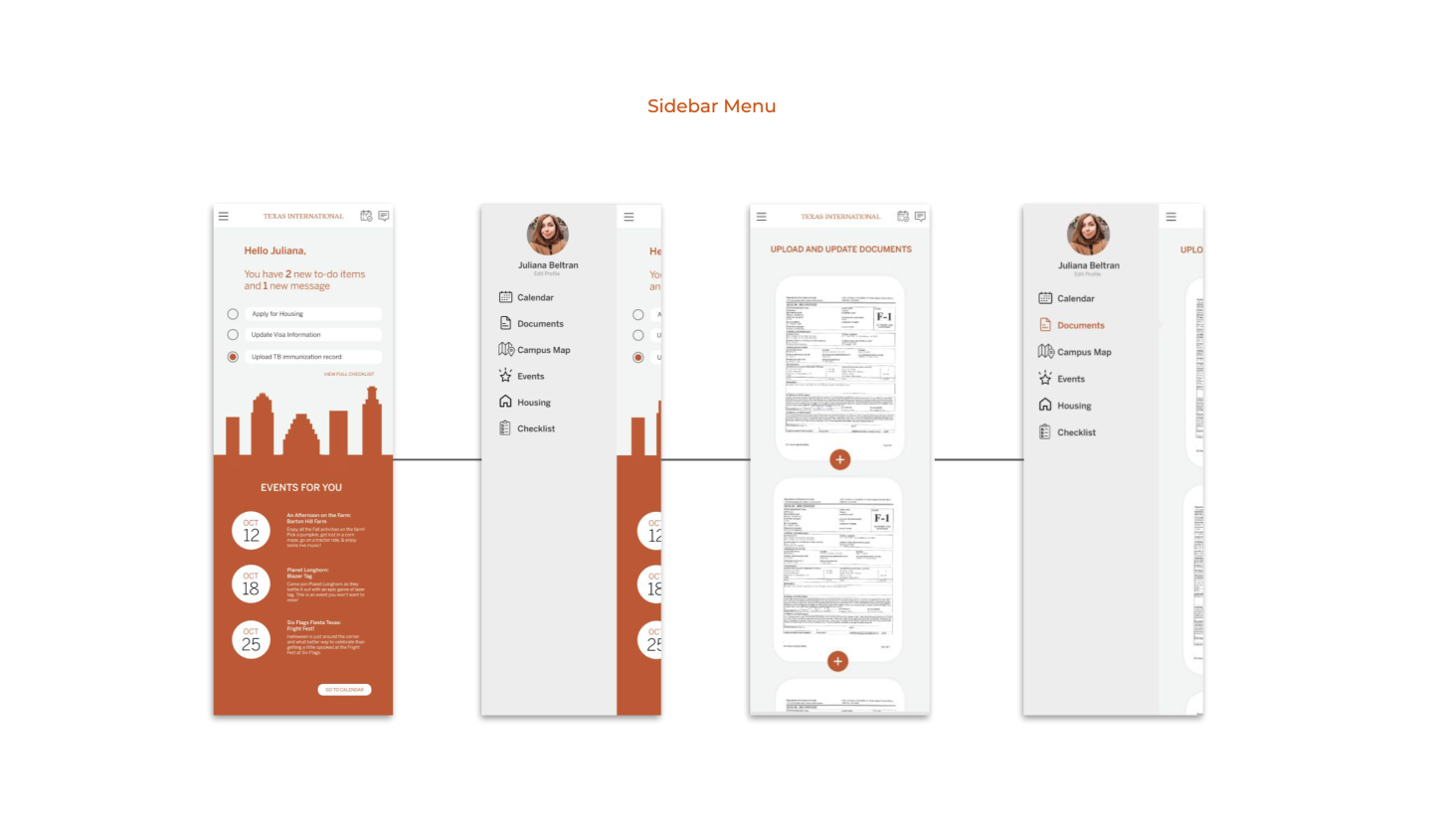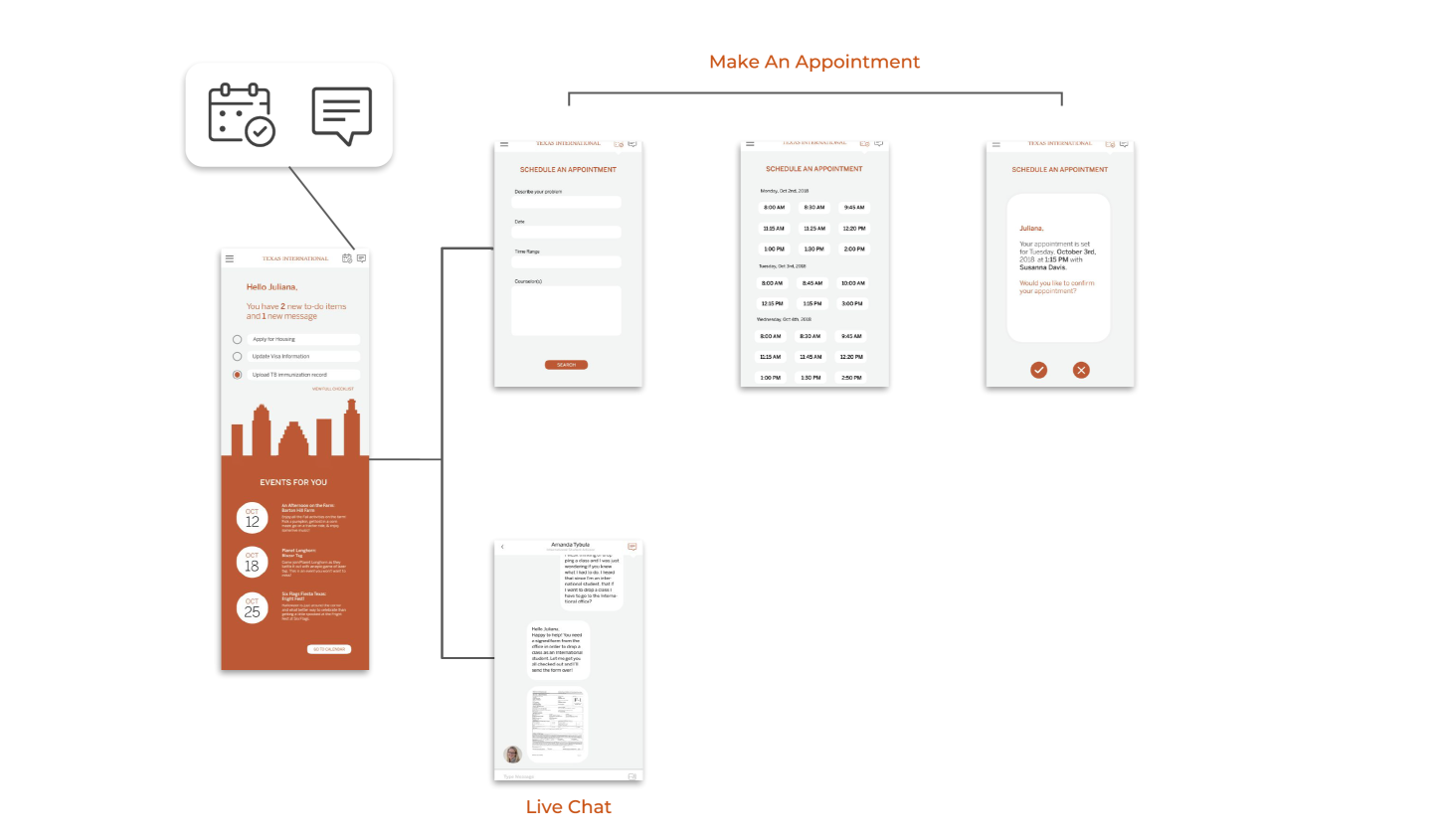 To view our full prototype, click here
UT International created by Michelle Tamir, 

Elisabeth Dubus, Emily Park, and Jordi Romano.