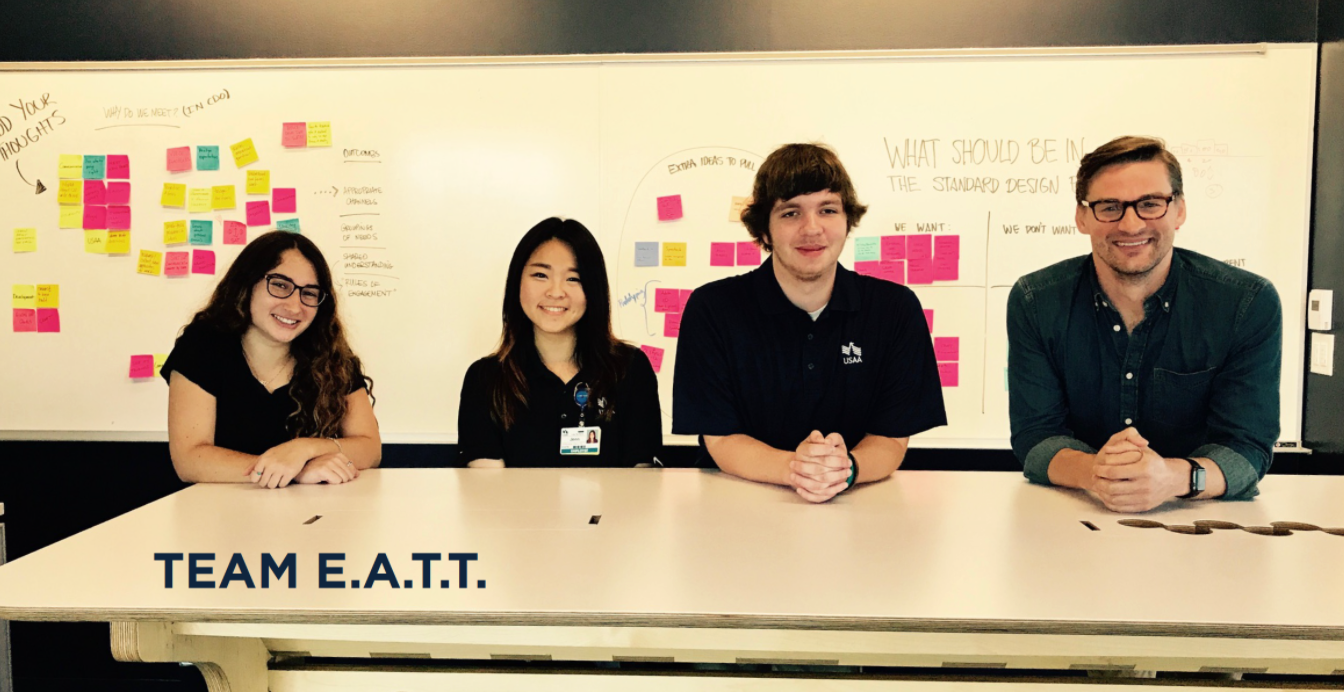 Journey is a financial planning tool created as an intern portfolio project by Team E.A.T.T (Eat All The Tacos). Journey pushes the connection between young people and finances, and encourages healthy financial habits through the guidance and help of financial consults.
Over the summer of 2017, I interned at the USAA Chief Design Office (CDO) at Austin, along with three other design interns. We were given a portfolio project to develop a concept that could potentially be used to aid members with their finances.
Finances are typically viewed as a source of stress, worry, and anxiety. People want to worry less about their finances, but do not know how to approach them.
How might we help millennials define their lifestyle goals for the future?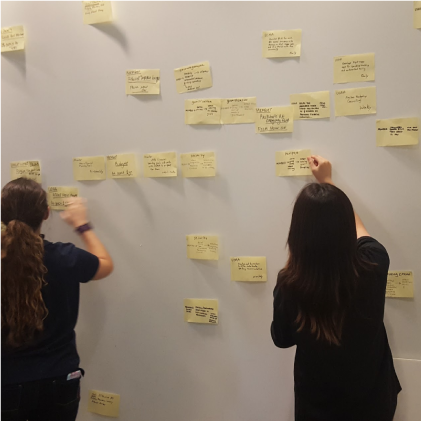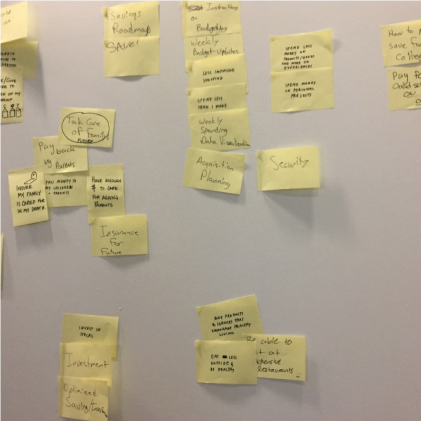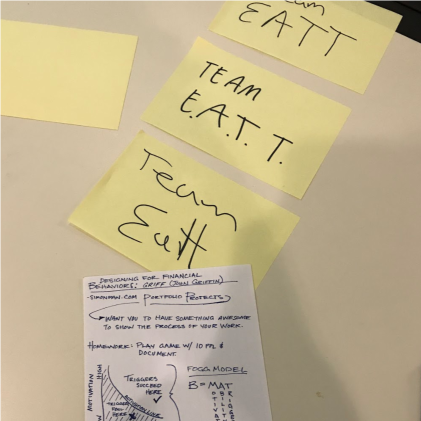 The next assignment after our ideas were selected was to conduct member research via an interactive game. In our game, we asked players to rank their attitudes and behaviors regarding financial anxiety. In addition, they were also questioned about potential features/ideas that could alleviate financial anxiety that we drew from our affinitization.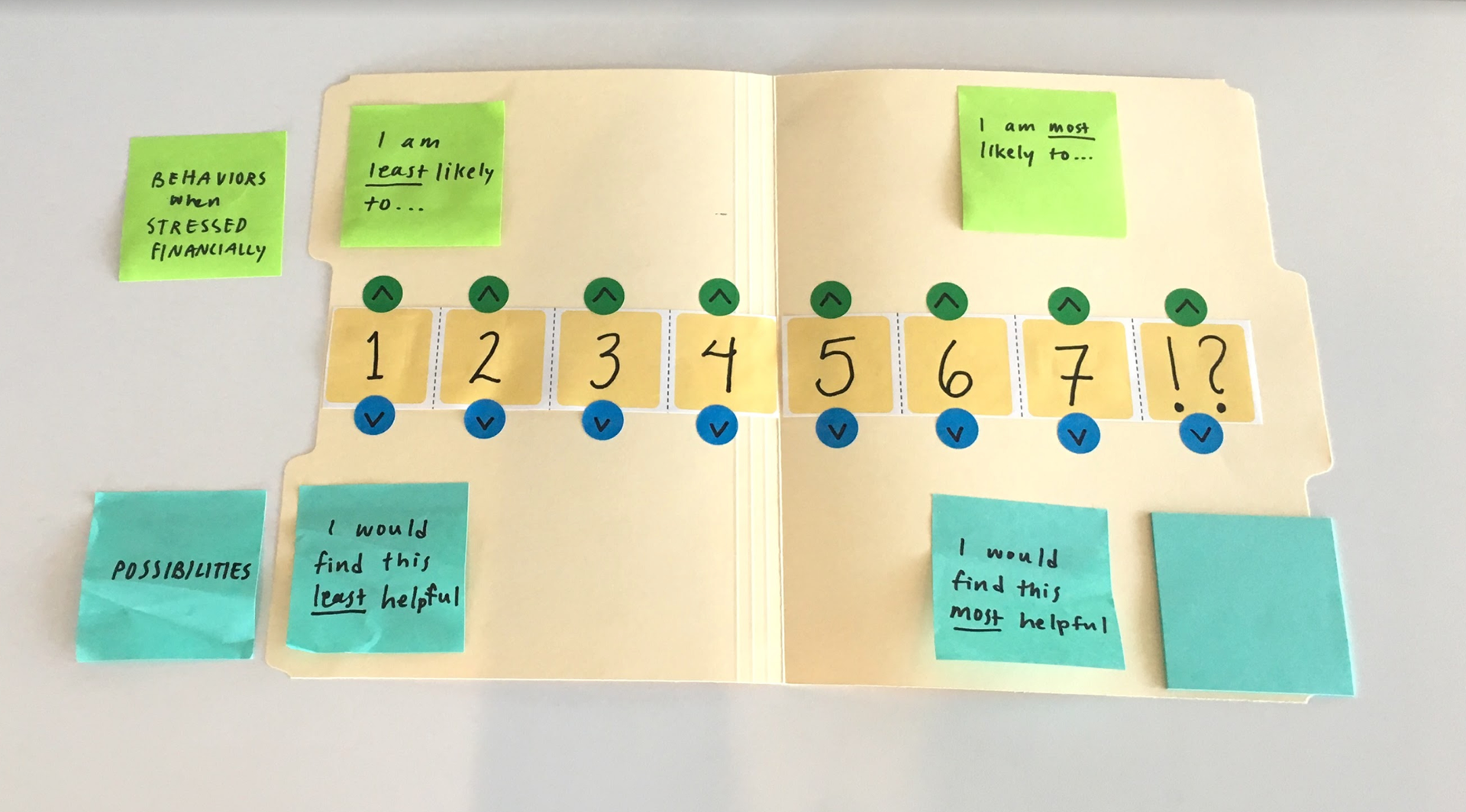 Those who played the game had to rank 7 behaviors in reaction to financial stress from least to most likely to do and 7 potential features we could implement to alleviate this stress from least to most helpful.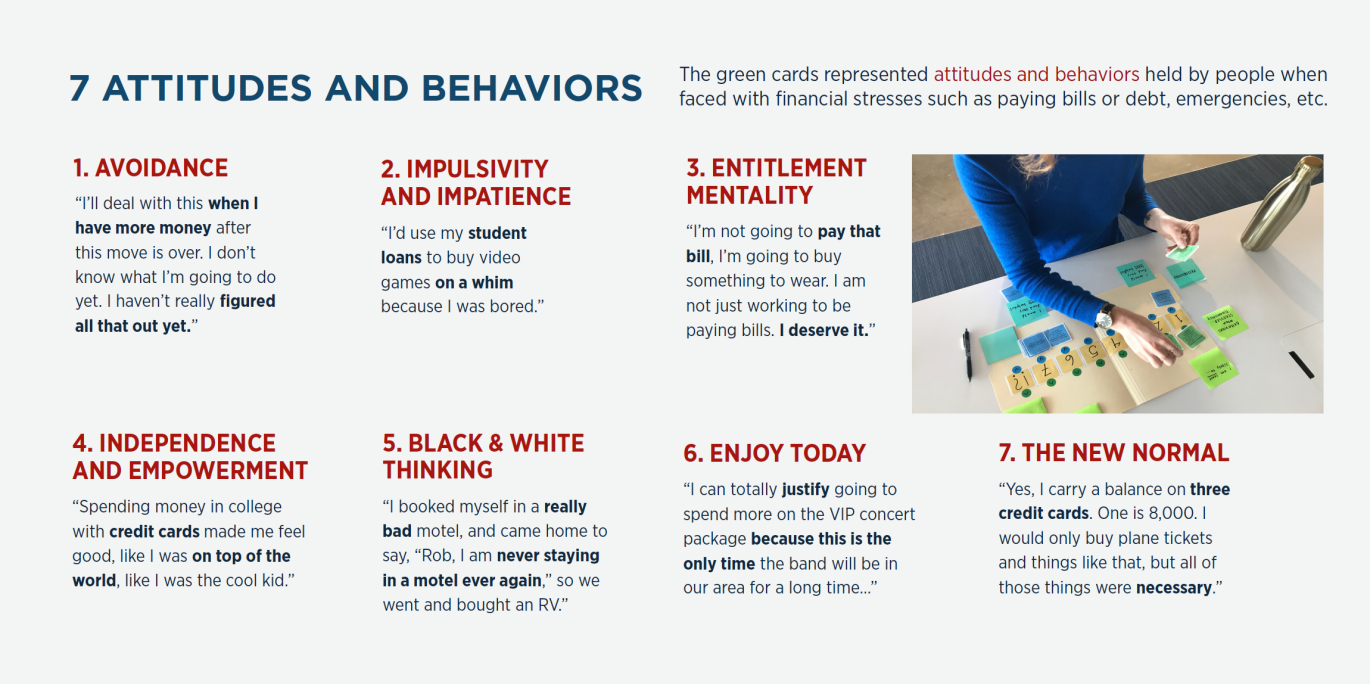 People generally do not like sharing their financial records with their peers, regardless of how vague the records.
Financial readiness is crucial, especially at a younger age (college years).
Instant gratification releases dopamine and positive notifications can tie into the frequent build of helpful habits.
Avoidance tends to be the most common reaction to stress; this ties into other familiar human habits like procrastination.
After finding the most consistently high ranking behaviors and features cards, we decided to pursue those ideas and connect them back to our initial goal of alleviating financial stress and anxiety through the guidance of financial counselors and the top 3 features chosen by our members: rewards, financial planning, and financial coaching.​​​​​​​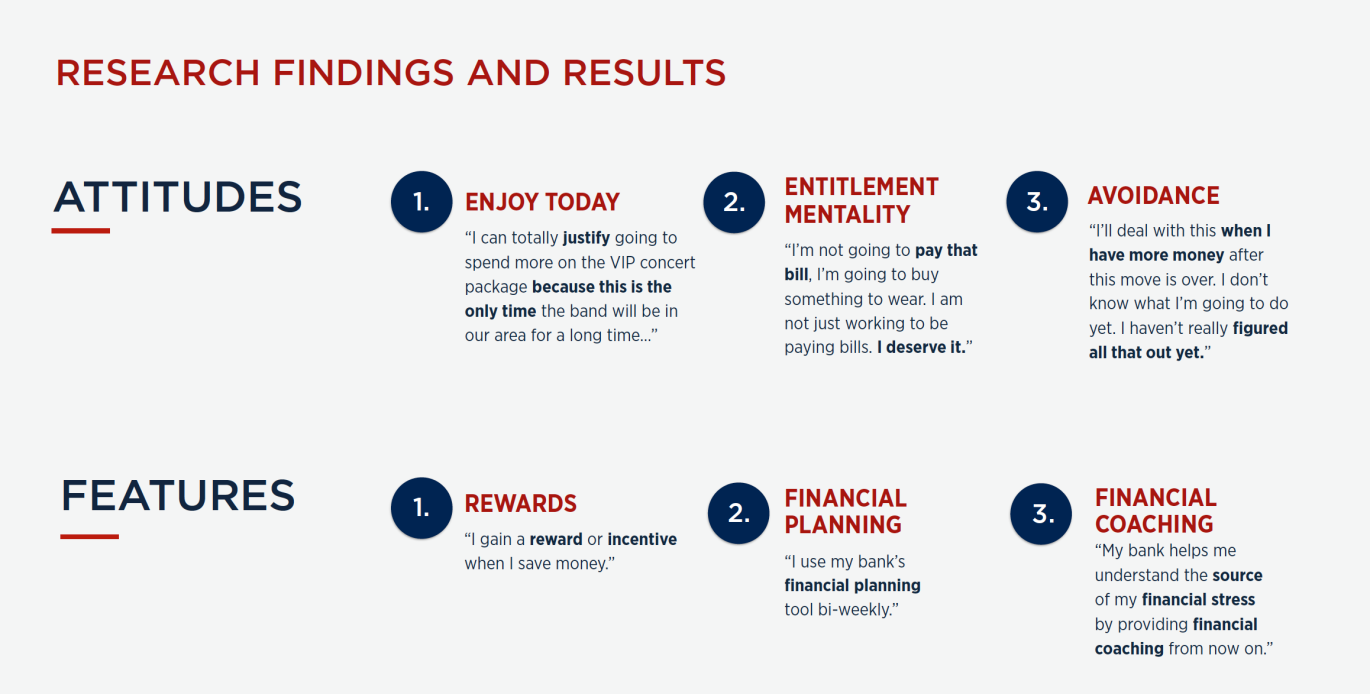 After brainstorming and mindmapping multiple different concepts such as progress bars, an auto-rewards system and community encouragement systems, our team settled on a customized financial roadmap.
Idea Refinement and Personas
We decided that we wanted our idea to tackle the problem that currently affects many young people when considering their finances: finances are too much and too confusing. So many uncertainties come with the future: How will I pay for higher education? How do I take out a loan? What is a loan? What do I do for retirement?
All of these questions force such a long term and big picture view on finances that they become overwhelming and too hard to deal with. We wanted our roadmap to focus on making small, easily achievable goals that eventually lead to larger ones.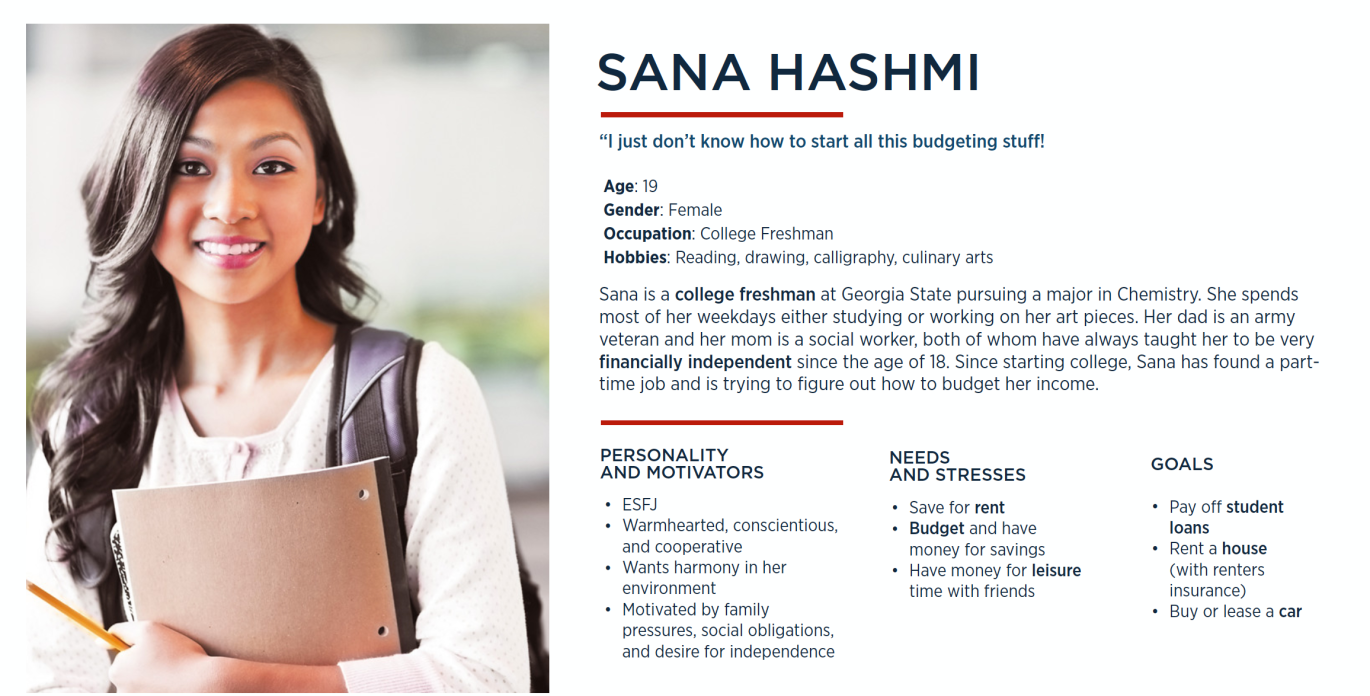 Marissa is a financial consultant at her local bank. She spends her day talking to members to try and set them up for financial success and security. She loves helping and works diligently to make sure that her members understand the path they need to take for success. She finds that working with millennials can be difficult because of the age difference and lack of understanding of their personal finances and goals.
After developing our personas and using them to navigate our concept, we began developing hi fidelity screens to present for our final project.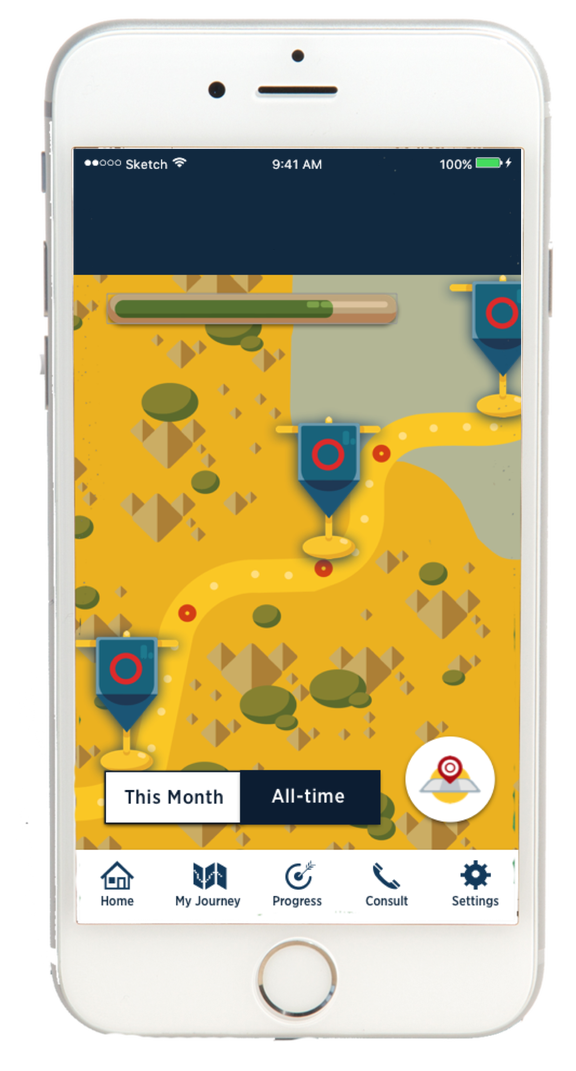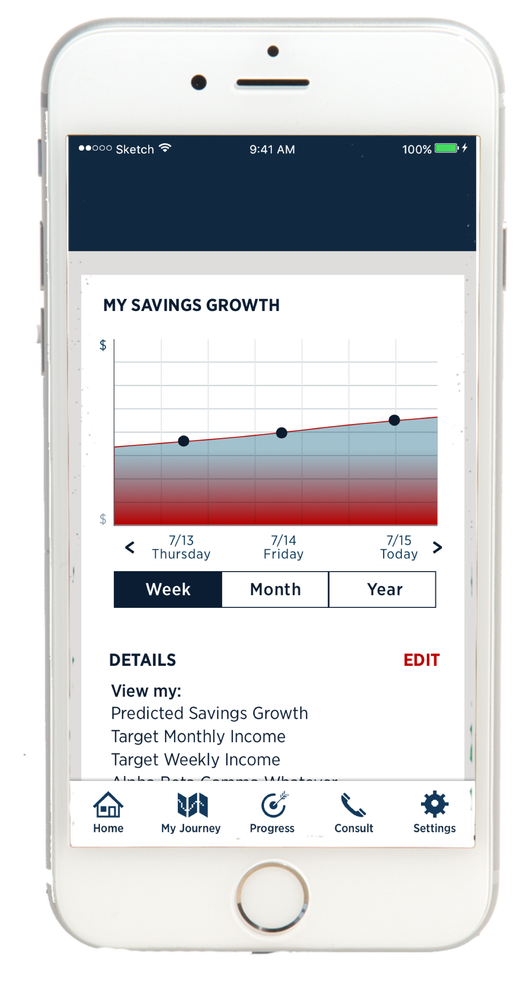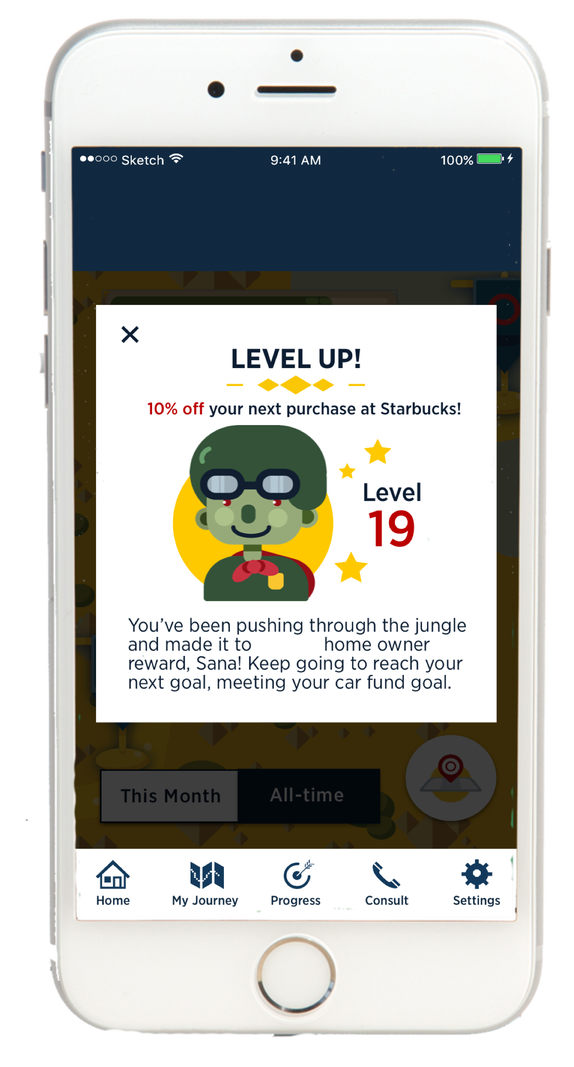 Before coming to USAA for an internship, I was very unaware of the way people handled their finances, how banks worked together with their members to help them, and what "finances" really meant. This portfolio project was extremely eye-opening to me of what the design process from start to finish is like, from research to hi-fi prototypes. Overall, I really enjoyed this project and I'm very glad to have worked with such a great team of interns and coordinators who made this possible!
Thanks for reading through my process :)
Journey created by Michelle Tamir, Jenn Lee, Nolan Canady, and Brandon Anderson.